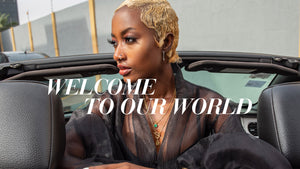 "Our vibe is simple: high quality,
trans-seasonal, effortless chic." 
We pride ourselves on making sure our jewellery is crafted using only precious metals because that's what you deserve.

 At Grove & Vae we believe everyone deserves to treat themselves to the finer things in life without breaking the bank.
This is why all of our pieces are expertly curated and designed in London and made with the finest 14K gold vermeil and rhodium-plated sterling silver, this way we can ensure that your jewellery guarantees the long-lasting finesse of genuine gold and sterling silver without the hefty price tag.
Grove & Vae is designed for the modern and effortless icons and with our curated collection of classic and edgy staples these picks will be your go-to for years to come.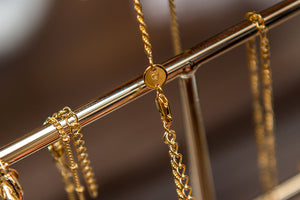 Our Materials
All of our jewellery is designed in London and made with the finest 14k gold vermeil and rhodium-plated 925 sterling silver. This ensures that your pieces never tarnish and you never have to compromise on quality.
What is Gold Vermeil?
Gold vermeil is the perfect affordable alternative to solid gold jewellery.
It is a higher quality plating technique in which the base metal of all of the jewellery is pure 925 sterling silver, the sterling silver is then plated with a much thicker 2.5 micron plating of solid 14k gold. Fancy, huh?
For reference, standard gold plated jewellery is usually coated with 0.1-0.5 microns of gold and normally has brass or stainless steel as the base metal.
Shop Gold Jewellery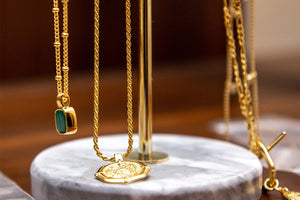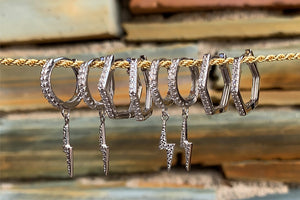 What Is Rhodium-Plated?
All of our sterling silver jewellery is plated with rhodium, a precious and extremely rare metal that protects the silver from exposure, gives it great shine and lustre and helps reduce long-term tarnishing.
Shop Silver Jewellery
Handled With Care
Each order is beautifully packaged in our signature Grove & Vae gold foil branded blue jewellery box, complete with a soft suede pouch, a cleaning cloth, a jewellery care card and a custom Grove & Vae mailer box.
Shop All Jewellery
JEWELLERY CARE
Maintaining your gold vermeil and rhodium plated jewellery isn't hard, however even precious metals are susceptible to natural wear and will require some maintenance to ensure longevity.
Please make sure you remove jewellery before showering, exercising and swimming and please avoid contact with any liquids or chemicals including water, lotions, perfume, alcohol and hairspray.
We recommend that you use a dry microfibre or cotton cloth after each wear and store your pieces individually in the Grove & Vae soft jewellery pouch and box provided to avoid scratches.
Do not use metal cleaners or polishes. 
Lastly, we recommend protecting your jewellery from extreme temperatures, direct sunlight and rough surfaces.
We want you to love and cherish your Grove & Vae pieces just as much as we do and by giving your new jewellery the proper love and care it needs, it'll last a long long time.